Last month was Magical Dining month here in Orlando. Long story short, you could get a 3 course meal at a slew of high end restaurants for just $33 per person. I was lucky enough to win a gift certificate on Twitter from Visit Orlando to try out Magical Dining at Eddie V's in the Dr. Phillips area. To be honest, I hadn't heard of Eddie V's until late August when my friends and I were starting to make decisions about where we wanted to go during Magical Dining month. I checked out Eddie V's menu and liked what I saw, so when I won a gift certificate for there I was super stoked. I took along my friend Andrea because she had been dying to go. What a great experience!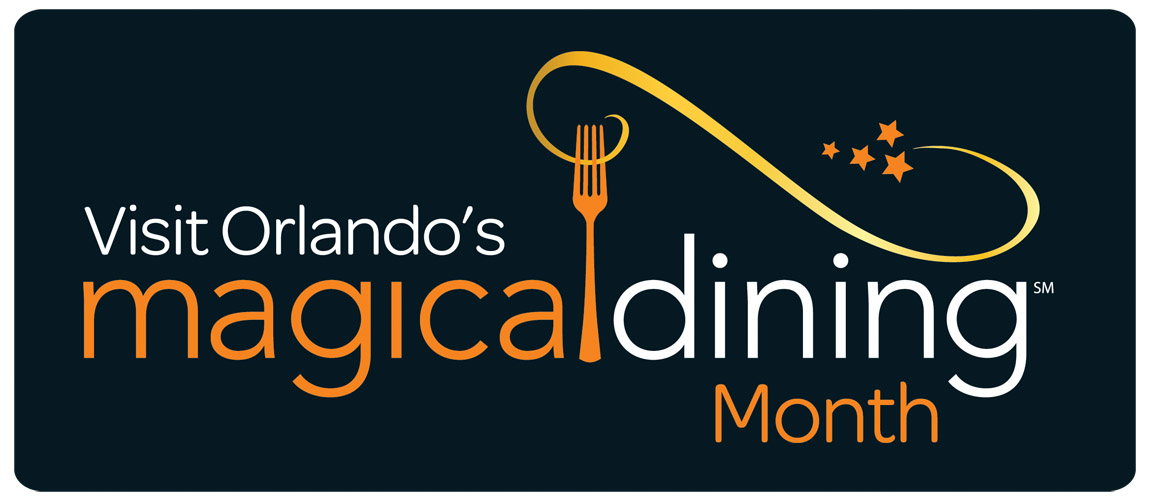 We made a reservation for 7:15 pm on a Wednesday. I was shocked when I showed up at 7:00 pm and the place was slammed. The parking lot was full, the lobby & bar were full, and there wasn't an empty table in sight. What in the world was going on? I did show up on the right day didn't I?
I waited until I knew when my friend would arrive and checked us in at the hostess station around 7:05. She told me it would probably be a 15 minute wait which wasn't a big deal. Around 7:21 (I checked my phone) the manager came over and apologized for the wait and explained they had a bunch of tables that had paid and they were just waiting for them to leave. We told her it wasn't an issue, but she still offered us some complimentary drinks in the meantime. We took her up on her offer and enjoyed two very tasty, and very strong, blood orange mojitos while we waited (which was only another 5 minutes at the most).
We were sat at a very comfy half booth/half table and handed our menus. I have to point out that they gave us the regular menu AND the Magical Dining menu. At another restaurant we went to during Magical Dining we were only given the regular menus and had to ask for the MD ones. I know it sounds silly, but not being brought both made us feel like ordering from the MD menu wasn't encouraged. So I was happy to see that they brought us both menus.
My gift certificate was enough to cover both our MD meals and then some, so we decided to start off with an additional appetizer. we got the Batterfried Oysters and they were amazing! They were lightly battered, topped with a light curry sauce, and sat atop a pickled Asian cucumber. The combination of flavors was incredible! If our first course hadn't come out while we were still eating the oysters I may have seriously considered ordering more.
For my first course I had the Salt & Pepper Crispy Shrimp which were topped with ginger, scallions, shiitakes, & a red chile sauce. These were also lightly battered which I loved. The batter didn't take away from the other flavors in the dish. The sauce was a little spicy, but really didn't kick in until I had eaten all the shrimp. It was good, but I was glad it wasn't a main course covered in this sauce.
For my main course I had the Scottish Salmon which was sautéed with young vegetables & maille mustard vinaigrette. I must admit that salmon is not my favorite fish. But I was in a seafood restaurant and it just felt wrong to order chicken (the third option included steak so that was out). Boy was I glad I went with the salmon, it was so good! The mustard vinaigrette gave if just the right bit of flavor and the fish wasn't "too fishy" (which is usually my problem with salmon).
When we were ordering our meals the waiter asked if we wanted to order any additional sides. We hadn't even thought about that! We decided to go with the truffled mac n cheese. If you like mac n cheese, you HAVE to order this side. I easily could have eaten an entire plate of this stuff. It was AWESOME! AMAZING! FABULOUS! And DEEEEEEELICIOUS! It was super good ok?
For dessert there were three options – dark chocolate mousse, vanilla bean creme brulee, and hot bananas foster butter cake. How do we decide which ones to pick? As we were going back and forth about it the waiter said "Why don't I just bring you a trio so you can try them all?" Perfect! When he brought out the desserts we expected one plate with a small version of each dessert. Oh no, we got three full sized desserts! They were all ready good, but in the end the bananas foster was our favorite.
We really enjoyed the restaurant, our servers, and especially our meals. We are going to make sure that all our friends come with us to Eddie V's during magical dining next year. This is the kind of place you really need to share with friends. Thanks to Visit Orlando for such a fun night out!