If you are a single person like myself, you probably cringe immediately when seeing the Red & Pink decorations and cupid themed candy arriving in your local stores. You probably start thinking about how everyone is going to be posting sappy messages and pictures on Facebook and Instagram that day and you probably immediately start planning your "social media blackout." And you just might start thinking about what in the world you are going to do that night because it is a Friday this year, which means EVERYTHING that night will be Valentine's day themed. Not true my friends! There are actually quite a few Non-Valentine's Day events planned for that night. Whether you are looking for an anti-Valentine's day event, a singles event, or just a place to get drinks with your friends – we have a pretty good list of events that will be right up your Non-Valentine's Day celebrating alley.
Howl at the Moon on I-Drive invites you to come "celebrate without the ooey-gooey crap" at their 9th annual Love Sux Anti-Valentine's Day party. The party starts at 6 pm and you can get in free if you bring a mutilated picture of an ex. You can enjoy drinks like the Ex-Boyfriend and F-Bomb along with other drinks specials and of course their dueling pianos will be rocking your favorite anti-love jams.
The Abbey has a special 8 pm showing of Spank – The Fifty Shades Parody for those folks looking for a good laugh. This new imagining of the characters comes to life with sharp-witted comedy, musical numbers, sexy striptease performances from the leading hunk, plus lots of surprises! Get there early for pre-show cocktails then stay to meet the cast and pose for a photo with Mr. Dangerous himself! Tickets start at $30 for general admission.
Do you still want to enjoy some sweet treats in a non-sappy, artistic, and slightly messy way? DRIP is having The Candy Bar on February 14, 15, & 16th. Local artists and architects have created interactive art installations with sweet and intoxicating edibles. View, taste and interact with the lollipop tree, marshmallow art, gummy bear infused cocktails, pink martini inspired art, and a life sized candy board game. As with all DRIP events, people are strongly encouraged to dress down (jeans/flip flops or bring some fun tights and have your DRIP t-shirt turned into a Valentine's dress) as colors fly with abandon.  The event starts at 8 pm and tickets are $55 a person.
If you are like a friend of mine who has a birthday on Valentine's day, finding somewhere to eat that doesn't either have a long wait, require reservations, or is not serving a smaller pre-fixe menu can be quite difficult… His suggestion for finding such a seasonally and thematically unresponsive dining venue? Check out your favorite Chinese restaurant. According to the holiday's preeminent anti-hero, he says these are some of the only places in town where you can just walk in on Valentine's day and get your favorite meal with no lengthy wait or added frustration. Chinese food not your thing? Consider trying some smaller restaurants in your neighborhood or quick service restaurants like Italio or Tijuana Flats.
One last option is to do something completely unrelated to Valentine's Day or Anti-Valentine's day. You could check out a Solar Bears game, go see Cirque Du Soliel at Downtown Disney, hit up Splitsville for some dinner, drinks, and bowling, or check out a live show at House of Blues.
Or, if you wanted, you could postpone your anti-Valentine's day activities until Saturday. Have you heard of Cupid's Undie Run? Cupid's Undie Run is a mile(ish) run in your bedroom-best on Valentine's weekend. The mile(ish) run is a fundraiser for The Children's Tumor Foundation and they raised over $1.3 million last year! The run takes place on February 15th at 2 pm in Downtown Orlando and there is a big party afterwards. If you raise a certain amount of money you even get a pair of undies that say "Runs with Cupid!" What better way to NOT celebrate Valetine's Day than running around downtown Orlando in your undies.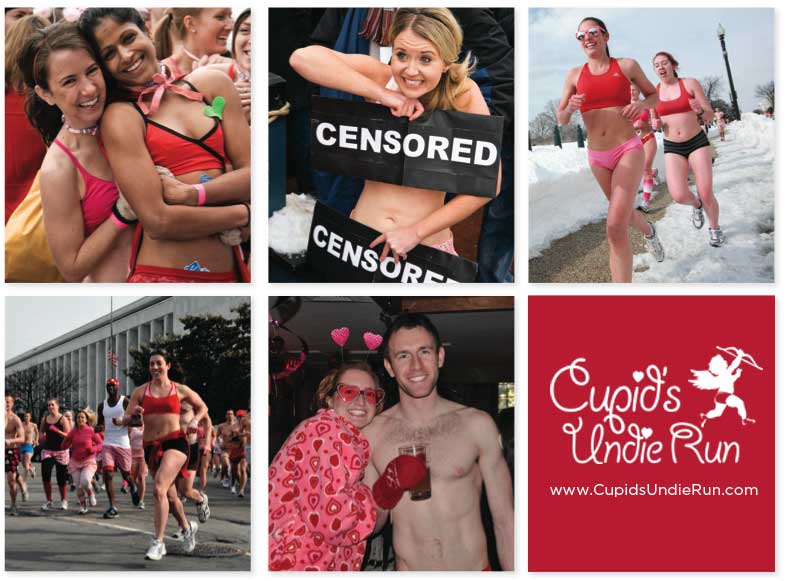 As you can see there are plenty of options around town for you to do if you don't have a Valentine to be sappy with. Just because you are single it doesn't mean you can't go out on Friday February 14th and have a great time!