Halloween is all about fun, so the first thing I think of is all the fun Halloween & Fall desserts I can bake. Today I'm sharing 5 of my favorites.
1. Pumpkin Spice Latte Cupcakes
My bestie Laura introduced me to this recipe. They are AMAZING! If you like pumpkin, these are definitely for you!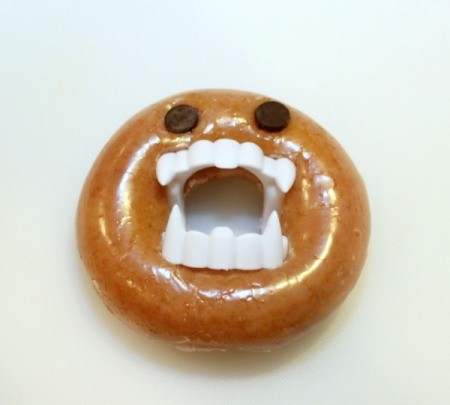 I understand this isn't really a dessert that is homemade, but its super cute and you COULD use homemade donuts if you wanted. I think these would be super fun to send with your kids to school or even to surprise your coworkers with. Imagine their surprise when they opened a seemingly innocent box of cupcakes and found these monsters inside! All you need to pull this off is some chocolate chips and plastic vampire teeth.
3. Snickerdoodle Pumpkin Ice Cream Sandwiches
I dare you not to fall in love with these! You could use store bought cookies and ice cream, or you could make your own (cookies and/or ice cream). I think cookies and ice cream are a perfect pair and this combination is great for fall. Here in Florida its usually still hot on Halloween, so these would be a perfect post-trick or treating snack.
4. Pumpkin Apple Streusel Muffins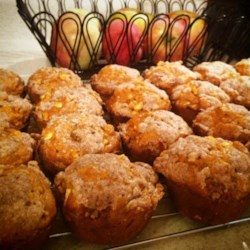 I made these for Thanksgiving about 5 years ago and my grandfather loves them so much that I have had to make them every year since. They are pretty simple to make and really tasty! They are perfect for breakfast or as a sweet bread to have with a meal.
5. Chocolate Filled Sweet Potato Cupcakes
Please don't let the fact that these are sweet potato in them deter you from trying this recipe. They are AMAZING! I didn't tell my family what was in them because I was worried they wouldn't try them. Most people think that the secret ingredient is pumpkin, so its fun to see their surprise when I tell them that its sweet potatoes.
*One tip, don't put these in the refrigerator after you make them. The chocolate in the center will get too hard.
I hope you found at least one new recipe that you might consider trying this fall. Next week's Friday Five will be all about Halloween Cocktails.