This shop has been compensated by Collective Bias, Inc. and its advertiser. All opinions are mine alone. #SleepWellWithCopperFit #CollectiveBias
Sleep and I have never been very good friends. For as long as I can remember I've had issues falling asleep, staying asleep, and just getting enough sleep. Add in my hips and knee problems, coupled with my herniated disk from earlier this year and I'm just a mess when it comes to sleep. I have tried just about everything to combat these issues. Usually about every three months or so the issue I'm having changes, just about the time I THOUGHT I'd gotten it under control.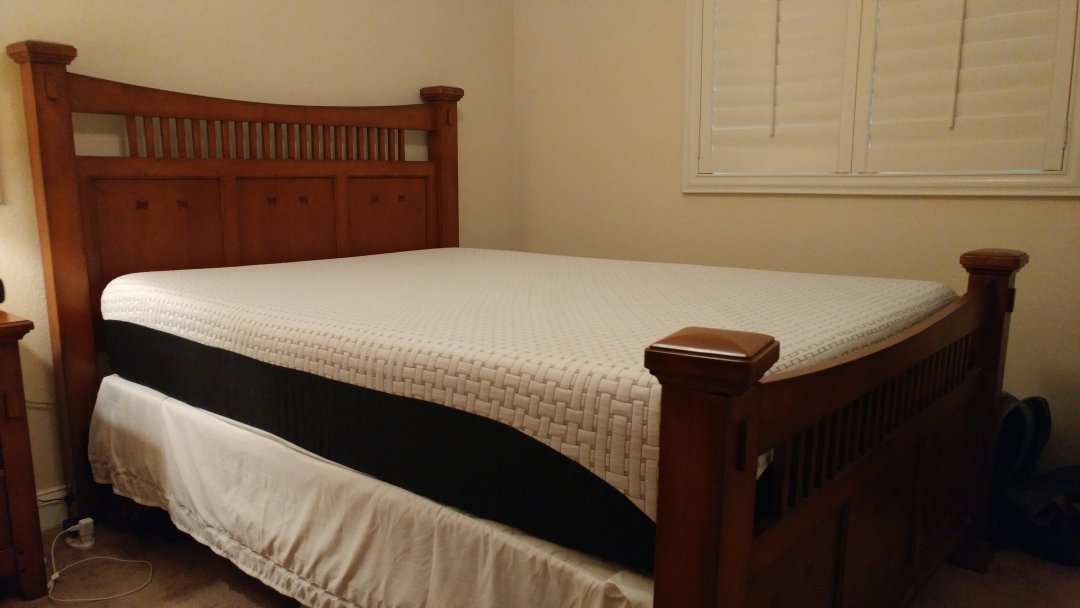 I have my normal bedtime routine now that definitely helps with things. But there was one thing that I knew needed to be changed that I hadn't gotten around to yet – I needed a new mattress. I'd had mine for going on 10 years and it was showing. There was a Meghan sized dent right in the middle of the mattress where I would always sleep. I knew I needed one, but being a single gal made getting one home a bit of an issue. I couldn't fit it in my car, I didn't want to pay to have it delivered, and how would I even figure out which one to get. So when I heard about the Copper Fit® Mattress I was intrigued (PS – the image above is shoppable for when you decide you want one of your own!).
So I could not only get a Copper-Infused memory foam mattress that cradles my body and provides great pressure relief to help eliminate troublesome aches and pains, it would work with my current box spring, AND they ship it to your house for FREE? And if I don't like it I can return it for free as well? Sign me up! You can even customize the color of your custom-designed Copper Fit® mattress cover. I picked the Replenish Ivory since most of my sheets are light colored.
Having the mattress arrive right to my door was definitely helpful. And the fact that its kinda shrink wrapped and rolled up meant I didn't have to drag a huge queen sized mattress through my house. A few steps and it was ready to go! But it was still a lot of work, don't get me wrong. We are still talking about moving around a 117 pound mattress in a box, getting it on to the bed, and unwrapped – all on my own. But was it worth it? Oh my goodness yes.
I didn't realize just how much my worn out mattress was impacting my sleep and how I felt when I woke up each morning until this new one arrived. The mattress is firm, but still has enough give when I move around at night (which I do a lot). And it is the perfect firmness for my pre-bedtime yoga practice. Doing yoga in bed before I go to sleep has made a world of difference with my sleep. It gives my mind and body a chance to wind down before I turn off the lights. This 8 minute routine is just enough to get me ready for a good night's sleep!
Before you get started with your yoga practice, take a few steps to get ready for bed. Change into whatever you sleep in (PJs or your birthday suit), do all of your bedtime prep (brush your teeth, go the bathroom, take your vitamins), and put away the electronics. I know the last one can be rough for some of us since we tend to use our phones as an alarm, and in my case, as a white noise machine. If you use your phone for those things, put it out of arms reach so you aren't tempted to pick it up when you are having trouble sleeping. It won't help! Once all that is done, settled in for this 8 minute practice that will help get your mind and body ready for a good night's sleep.
Upside-Down Relaxation
Minutes: 0:00-2:00
Sit facing your headboard with your butt about 6 inches away from it. Lie back and extend your legs up the wall. Let your arms rest by your sides, palms facing up, and breathe gently, feeling the stretch in the backs of your legs.
Winding Down Twist
Minutes: 2:00-3:00
Sit cross-legged on the bed and exhale as you place your right hand on your left knee and left hand on the bed behind your tailbone. Gently twist your torso to the left. Allow your gaze to follow, looking over your left shoulder. Breathe deeply, then return to center and repeat on opposite side.
Nighttime Goddess Stretch
Minutes: 3:00-5:00
Lie on your back with knees bent. Place the soles of your feet together, then let your knees fall open, forming a diamond shape with your legs. Rest your arms on the bed. (I actually sleep like this sometimes. It takes pressure off my back when it is bothering me.)
Child's Pose
Minutes: 5:00-7:00
Sit up comfortably on your heels. Roll your torso forward, bringing your forehead to rest on the bed in front of you. Lower your chest as close to your knees as you comfortably can, extending your arms in front of you. Hold the pose and breathe.
Rock-a-Bye Roll
Minutes: 7:00-8:00
Lying on your back, hug knees in to chest. Cross your ankles and wrap both arms around your shins with clasped hands. Inhale and rock your body up to sit; exhale as you roll back. Continue for 1 minute, then roll back, extend arms and legs, and drift off to sleep.
Still need some help with getting to sleep? Have a cup of non-caffeinated hot tea and read a chapter in a book. Like an actual book, not on your phone or Kindle. Lots of studies show that looking at your phone, tablet, or the tv right before bed messes with your brain and your sleep. So step away from the electronics!
If you are interested in improving your sleep with a Copper Fit® Mattress they are running some specials right now. Even if you aren't interested in purchasing this mattress, do yourself a favor and make sure your current mattress is the right one for you. You want a good night's sleep right?