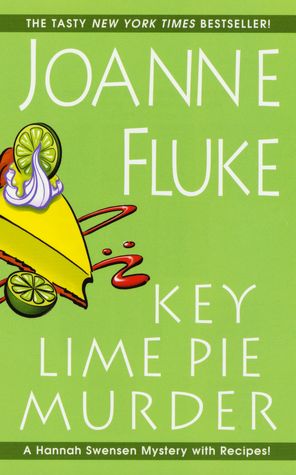 Title: Key Lime Pie Murder
Author:  Joanne Fluke
Publication Date: 2007
Book Description (from Amazon.com):
It promises to be a busy week for Hannah Swensen. Not only is she whipping up treats for the chamber of commerce booth at the fair; she's also judging the baking contest; acting as a magician's assistant for her business partner's husband; trying to coax Moishe, her previously rapacious feline, to end his hunger strike, and performing her own private carnival act by juggling the demands of her mother and sisters. With so much on her plate, it's no wonder Hannah finds herself on the midway only moments before the fair closes for the night. As the lights click off, she realizes that she's not alone among the shuttered booths and looming carnival attractions. After hearing a suspicious thump, she goes snooping – only to discover Willa Sunquist, a student teacher and fellow bake contest judge, dead alongside an upended key lime pie. But who would want to kill Willa and why? Before long Hannah is sifting through motives and a list of suspects which include a high school student Willa flunked, the hot-blooded brothers of a disqualified beauty contestant, a rodeo cowboy, a baking competitor who failed to win her yearly blue ribbon, and the college professor Willa was dating. As fair week draws to a close, Hannah cranks up the heat, hoping that the killer will get rattled and make a mistake. If that happens she intends to be there, even if it means getting on a carnival ride that could very well be her last…
HOW MANY DEAD PEOPLE CAN ONE BAKERY OWNER FIND IN A SMALL TOWN???!!!
Okay, I'm done yelling. Sorry about that. There are 16 books in this series so far. I started with the 5th one (it was called Fudge Cupcake Murder, how could I pass that up?) and I've read 4 since then. I like these books a lot, don't get me wrong, but come on. If you live in a town where it is so small that you know everyone that lives there pretty much, then how on earth can the same woman keep stumbling across murder victims? And WHY are so many people showing up dead in this town?! If I were the main character I would have decided a couple books back to get the heck out of dodge. I understand that these are light murder mysteries and I shouldn't been thinking too much about those things, but it was just driving me nuts.
I guess I like these books because the main character is a baker who owns her own cookie shop. Anytime that they talk about a certain cookie in a chapter, the recipe is at the end of that chapter. And they are all REAL recipes. I haven't tried any out yet, but sometimes I think it would be fun to bake all the recipes in the book…. wait a minute, and then I could blog about it. Hmm, hasn't this been done before? I think they made a movie about it. Anyway, I'm getting off topic again. Oh yes, the recipes. I like that the recipes are in the books although it does give the illusion that the books are longer than they really are. One of these days I'll get around to trying one or two of them.
Another thing I like about these books is the fact that the main character is dating two TOTALLY different guys. They actually BOTH asked her to marry them in a previous book and… well, I can't tell you what happens in case you haven't read the book and are planning to. But the point is, I like that this fairly average woman has two totally different guys after her. Gives me a little hope that there are some guys out there for the rest of us normal chicks 🙂
So, if you are looking for a light read and can get past the fact that the main character keeps being the one to stumble across murder victims, then I highly suggest you check out this book (or one of the other 15 in the series). It'll give you a good laugh and possibly some good cookie recipes.