Last month I attended my first blogger conference – the Florida Blogger and Social Media Conference. FLBlogCon is the brainchild of Bess Auer, who always wanted to attend one of those big blogging conferences. The problem was, though, she couldn't take off all those days from her job as a teacher nor could she afford to fly off to New York or Chicago to attend! So instead she envisioned an affordable, local, one-day conference where all of the bloggers in Florida could come together to learn from some of the biggest names in the business. Fortunately, many of those big names live right here in the Sunshine State! Now in its fourth year, the Florida Blogger and Social Media Conference (aka FLBlogCon) is one of the largest conferences of its kind in the southeast, and yet has retained its intimate "Floridians teaching Floridians" base on which it was founded. Our big annual September conference has over 300 attendees and sells out a month and a half early.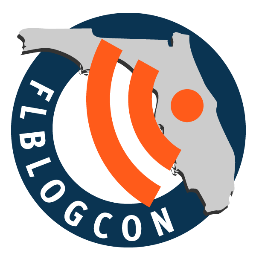 When tickets went on sale I went back and forth about whether or not to buy one. I chickened out in the beginning and by the time I decided to get a ticket they were sold out. Fortunately for me, a friend had bought a ticket and wasn't going to be able to attend. I bought her ticket, changed all of the info over to me, and I was all set to go. I was SO excited!
Over the next 6 weeks I went back and forth between being excited and being a nervous wreck. I'm not really "new" to blogging, but I had just started up my "new" blog. I spent the week before the conference getting all of my stuff together and trying to talk myself back into thinking this was going to be a lot of fun. There was a pre-party scheduled for the night before and I was signed up to attend. By that afternoon it was raining, I was tired from a long week at work, and I just wasn't feeling it. I thought about not going but decided at the last minute that I would attend, even if I just stayed for 30 minutes or so. Boy am I glad I went! I ended up meeting some new blogger friends and stayed until the very end.
Note to self: Don't talk yourself out of going to events just because you are tired/worn out/drained from work. 
My new group of friends made me really excited about the conference the next day. We all met up for the Opening Keynote and talked about what sessions we were going to take. Since I still felt like a "newbie" I decided to take a lot of the intro type sessions. It was fun because at least one of my new friends was in each of the sessions I went to, so I didn't feel totally alone.
Lunch was provided by Tijuana Flats and Onli and gave us all the opportunity to catch up and talk about the mornings sessions. My biggest takeaway from the morning sessions was that I wasn't as far behind as I thought I was. I actually had a little bit of a clue about what I was doing and that made me feel pretty great!
The afternoon sessions flew by and I was looking forward to the closing keynote and after party. I met up with my friends again and we were all just buzzing with new ideas and excitement for our blogs. The closing keynote was inspiring and the perfect end to a great day. And the after party, complete with whiskey, cupcakes, and a photobooth, was just the icing on the cake. I am already making plans to attend next year!
I wasn't really sure what to expect from this conference, but I am so glad that I went. I made valuable connections, new friends, and learned a lot about blogging. I really enjoyed spending the day with fellow bloggers – people who just "get it." It was such a great day and I can't wait until next year!